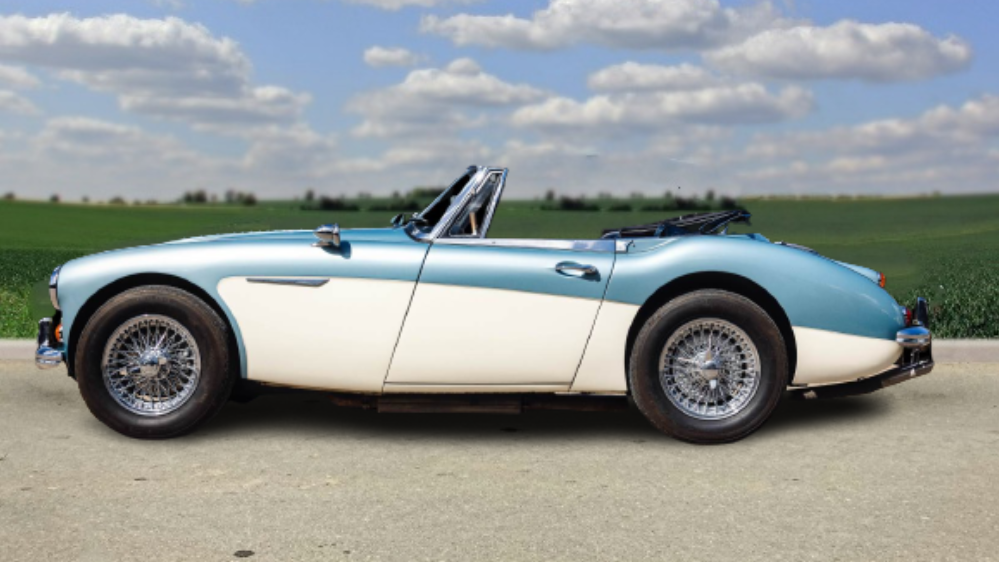 13.02.2023
The Austin Healey is undisputedly one of the great icons of British automotive history! We see the roadster in a line of legends with the Jaguar E-Type or an Aston Martin DB5. You can rent the E-Type and over 20 other classics from us, because we are more than just an Austin Healey rental...
Heating was an optional extra at the time, and apparently the first owner didn't tick this box when ordering - heat in our Healey comes exclusively from the engine and the exhaust system. In nasty weather, the folding top can be closed and the windows rolled up, there is no more weather protection, but it is sufficient, in our opinion. Please note - although it is a 2+2 seater, it is registered for 2 persons in Switzerland. However, the rear "seats" offer practical space for luggage!
Our Austin Healey of the last stage of development MKIII Phase 2 can rightly be called mature, if you compare it with its predecessors. No wonder, it is also the most popular in the line of ancestors of this British cultural asset.
The exhaust with its beguiling sound, the high-torque 3-litre engine and the classic ice blue/white paintwork make our Healey a unique experience! When you say "Healey", you immediately think of this model with its blue/beige paint and the big three-litre engine that gives this "Big Healey" its thrust.
Steve McQueen, Clint Eastwood, Bruce McLaren, Harrison Ford and Barry Sheene owned an Austin Healey.
Grace Kelly, Princess of Monaco, could not resist the beauty of the British roadster either, as did Joanne Woodward, actress in the fifties and wife of Paul Newman.
But the most legendary Healey driver was Pat Moss, the younger sister of Sir Stirling Moss. The rally icon won the 1961 Liege-Rome Rally (from Liege to Rome and back), fell in love with the car and bought it after the victory for "personal use"... and that's exactly why we, currently the only Austin Healey rental in Switzerland, have named our Healey "Pat", in honour of this great woman!
Our Mark 3 (MKIII) Phase 2 is the most desirable, and the last of the range, treat yourself to the pleasure of enjoying this roadster!
back